Trail Godfather

Bob Burco was exploring the concept of vastness in eastern Washington and spent a night in Walla Walla, Washington in 2001. When he awoke on June 20, he noticed a "a really big red building located across a narrow street from my downtown hotel, just screaming for someone to visit." In his trips through eastern Washington and Oregon the former head of Oregon Department of Transportation and former Washington Water Trails Association board member had noticed, time and time again, that signs for Lewis and Clark were on highways. He gained entry to the "really big red building", the Army Corps of Engineers District Office early that morning. He asked, "Why is it that the signs were on modern roadways, when in fact, Lewis and Clark had traveled the region's rivers?" Corps staff was "open to help, to partners, and to ideas."
Five months later on November 15, the Army Corps of Engineers Portland and Walla Walla Districts convened a scoping meeting at a Richland, Washington hotel, to answer Bob's question. This was the start of the Northwest Discovery Water Trail. In 2002 a steering committee began to meet with hopes of opening the trail during the Lewis and Clark Bicentennial Commemoration.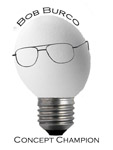 "Citizen Advocates" like Robert Burco volunteered time and energy to getting the new trail off the ground. This category of independent activists was listed as a partner on written materials in appreciation for their many contributions. As brochures and maps were developed and agency logos began to appear, Bob noted that these citizens were volunteering and not getting the recognition they deserved. Washington Water Trails designed a logo for Bob, the "Concept Champion" for the water trail.
Bob is at ease talking with university presidents, testifying at public meetings, exploring off the grid, or having a cup of coffee with truck drivers. He has a curiosity undiminished by years of public service and educating future leaders.